Asam Pedas, literally meaning "sour and spicy", is a classic Malaysian curry that can incorporate pretty much any kind of protein and/or vegetable. Today I'm sharing with you my family's version of Asam Pedas Fish or Ikan Asam Pedas. This recipe is simple to put together, requires only a handful of ingredients and is an absolutely treat to your senses!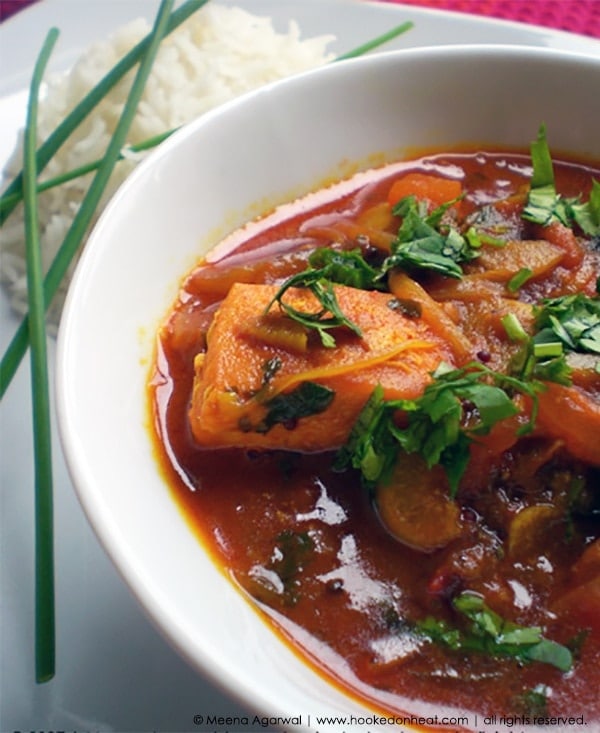 You know how we all have that ONE recipe of our Mom's that we could eat almost every single day or every single week of our lives? That one dish you ALWAYS request to be served when you come home from being away for quite some time – be it college, a big move or even a vacation! That ONE recipe, you swear that no matter how hard you try, you can never replicate the same flavours that come from your Mom's hands.
Yes, THAT one! We all have one of those – whatever it may be. For me, it is most definitely this recipe for Asam Pedas Fish curry, or Ikan Asam Pedas, as it is most popularly known in Malaysia. For those of you that don't know, my Mom is Malaysian. So it comes as no surprise that I grew up eating classic Malay dishes on a regular basis.
Asam Pedas is a recipe that is quite a favourite in many Malay households. Each family has its own treasured recipes and ingredients vary depending on location and season. I personally love make this recipe using pieces of Pomfret fish – but when I'm pressed for time, or need an option that's more readily available, I stick to using boneless fillets of Tilapia or Basa. But really, any kind of white fish would work well. I would however stay away from fish like Salmon that's pretty strong tasting on its own. This is a very light curry, and you want to use a fish that can take on the sour and spicy notes and let it shine.
Asam Pedas Fish or Ikan Asam Pedas (Malay-style Sour & Spicy Fish Curry)
Servings: 4
Ingredients
3 tbsp light cooking oil
1/4 tsp black mustard seeds
5-6 fresh curry leaves
2-3 garlic cloves finely sliced
1 medium onion thinly sliced
1/4 tsp turmeric powder
1/2 tsp red chilli powder
1/2 tsp coriander powder
2 medium tomatoes finely chopped
salt to taste
water as needed
3 boneless tilapia fillets (or any other firm white fish of choice) cut into 1-inch cubes
1 tbsp tamarind paste
fresh cilantro leaves finely chopped for garnish
Instructions
Heat oil in a deep pan and add mustard seeds, curry leaves, and garlic and let it start to sizzle. Add in sliced onions and let brown slightly.

Toss in spices, chopped tomatoes and salt, and stir-fry for a few minutes till tomatoes begin to soften and pulp.

Add in a cup of water, cover with a lid and let it come to a slight boil. Add in fish pieces and continue to cook for a few more minutes till fish is almost cooked through.

Stir in tamarind paste and cook covered for another 3-4 minutes till the fish has soaked in all the flavours. You can add in a bit water at this point depending on the consistency of the curry you'd prefer.

Garnish with chopped coriander and serve warm over steamed rice.
This post was originally published in April 2007 and has been recently updated.
If you enjoyed this recipe, you will surely love my Shrimp Sambal, Coconut Fish Curry and Ginger Shrimp Stir-fry recipe as well.
Tried this recipe? Leave a Comment and let me know, also Rate it by clicking the number of stars on the recipe card. Want to share your version with me? Tag me on Instagram @hookedonheat