I'm not one for baking, never have been. Now don't get me wrong – I LOVE CAKE. But I'd much rather buy them than spend my time beating eggs and sugar into a creamy, fluffy mush. That was of course, until Baby Dear developed a love for them too. As much as I love cooking and get compliments for my food, I suck big time when it comes to baking. I run miles away from any cake recipe that asks me to use ore than 3 eggs, or a cup of sugar or both. But I had to find a way out. I couldn't get myself to buy the sugar laden stuff that's so easily available at grocery stores nowadays. I wanted to bake my own cake out of love and healthy ingredients, and have Baby Dear enjoy them too!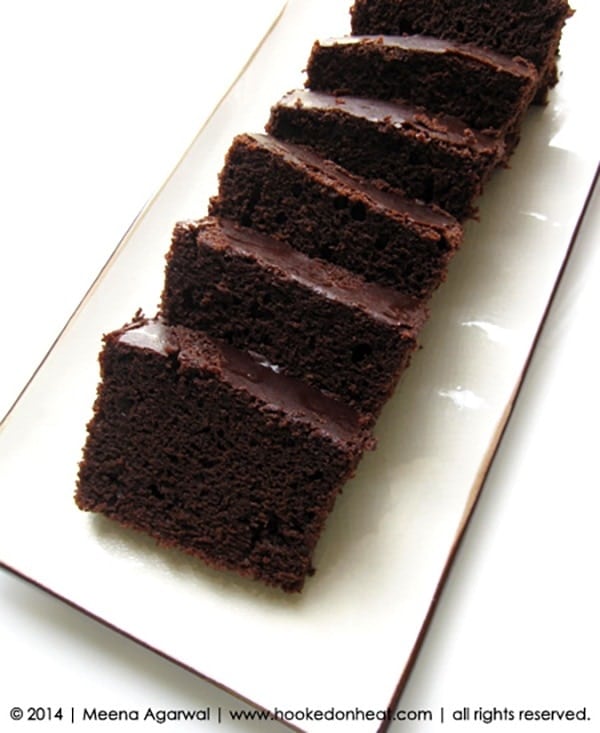 As a kid, I fondly remember my Mom baking the most delicious cakes often. She had her specialties and would alternate between the chocolate, orange, banana and vanilla flavours. But every now and then she would also dust off her trusty cake bible and pick something new and fun for us to try. My Mom has always been the baker of the family, still is, and this was why I ran to her when I needed a recipe that wouldn't have me crying at the outcome! And come to my rescue she did.
This recipe is one that you need to keep in your back pocket. It's like that little black dress that you reach for when you don't know what to wear, or want to wear something that would make you feel great. It's perfect for any occasion, or no occasion at all. All you need is a large mixing bowl and a spatula – no fancy counter-top mixers required. I made it twice last week. Both times, with Baby Dear as my baking assistant. It is that good. And simple. And quick. Oh, and did I mention its decadently delicious too?

QUICK CHOCOLATE CAKE
Prep time: 10 min | Cooking time: 15 min | Serves: you alone, or a crowd if you can manage to share

Ingredients:

1 egg
1/2 cup skim milk
1/4 cup light cooking oil
1 tsp vanilla extract
1 cup all purpose flour
1/2 cup light brown sugar
1/2 cup cocoa powder
1 tsp baking powder
1/2 tsp baking soda
1/2 cup hot water

Directions:

Preheat oven to 350 degrees.

In a large mixing bowl, beat the egg, milk and oil till well mixed. Add in the vanilla extract, flour, sugar, cocoa powder, baking powder and baking soda, and mix well. Slowly add in the hot water and stir to a smooth consistency.

Pour the batter into a greased 8″ square or round cake pan and bake for 15-20 minutes till the cake is cooked through.
Tried this recipe? Leave a Comment and let me know, also Rate it by clicking the number of stars on the recipe card. Want to share your version with me? Tag me on Instagram @hookedonheat