When in doubt, I make Chicken Stew!
There are only so many days in the dreaded Canadian winter when the white blanket of snow is lovingly caressed by the intense warmth of the sun's rays. It is often on days like these, which if accidentally fall on a weekend like today, that all I wish to do is have endless cups of hot cocoa and surround myself with the many sections of the bulky weekend newspaper.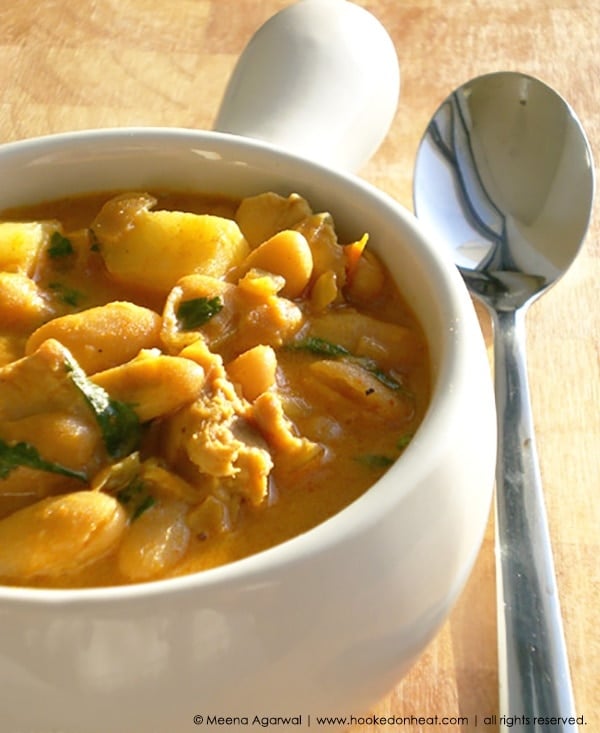 It is also on days like these, where I bitterly sulk over Hubby Dear's absence due to his frequent business trips. While my appetite tends to take a downward stroll while Hubby Dear is away, I still can't quite refrain from spending most of my time in my kitchen. The time spent in prepping, visualizing and finally creating the meal is what enables me to unwind and reflect on my thoughts.
I love listening to the sharp crunches from chopping an onion, the sizzling of chopped garlic in hot oil, or the bubbling of the Chicken Stew in my Dutch Oven; each of which can be easily substituted for any form of melody in my mind. The thought of having my lunch of this White Bean & Chicken Stew slowly simmer on the stove was tempting enough to compel me to get my lazy self into the kitchen and prep for it. And that's all I needed to do. The rest, as they say, will take care of itself!
White Bean & Chicken Stew
Servings: 4
Ingredients
2 tbsp light cooking oil
1 tbsp garlic finely chopped
3-4 whole green cardamom pods bruised
2-3 whole cloves
1 medium onion finely chopped
1/4 tsp red chilli powder
1/4 tsp turmeric powder
1 tsp coriander powder
2 large boneless chicken breasts diced into 1-inch cubes
1 large potato diced into cubes
1 can white kidney beans
1 small tomato finely chopped
1 can coconut milk
2 stalks lemongrass bruised and cut into 2-inch lengths
salt & pepper to taste
a handful of fresh coriander leaves finely chopped for garnish
Instructions
Saute garlic, cardamom and cloves in hot oil in a deep heavy-bottomed pan till fragrant. Add in onions and cook till tender and translucent.

Add in spices and fry for a few seconds before adding in the chicken and potatoes. Stir-fry carefully to evenly coat with spices.

Add in the beans, tomatoes, coconut milk and lemongrass. Season with salt and pepper. Cover and let it simmer for 15-20 minutes till chicken and potatoes cook through and become tender.

Stir occasionally in between, adding water if necessary to get desired consistency. Once done, garnish with chopped coriander leaves and serve warm over a bed of rice or with a side of thick crusty bread.
Notes
I'd recommend using a heavy-bottomed pot or a Dutch Oven like this one to cook this White Bean & Chicken Stew
This post was originally published in January 2007 and has been recently updated.
If you enjoyed this recipe, you will surely love my Chicken Chili with Black Beans and Black Bean Chili recipe as well.
Tried this recipe? Leave a Comment and let me know, also Rate it by clicking the number of stars on the recipe card. Want to share your version with me? Tag me on Instagram @hookedonheat