This recipe for Paneer Tak-a-Tak was created in partnership with Nanak Foods. All opinions, as always, are my own. I only write about and recommend products I use and love myself.
Here is an email I received a few weeks ago that got me thinking, testing and dreaming new paneer recipes. Until last night, when I finally saw the table clearly laid out in mind waiting for hungry mouths to dig in, I was seeing garlic and onions everywhere! I tell you people, the things I do for the love of cooking!
Dear Meena,

I have a co-worker from India who is vegetarian but does not eat onions and garlic. I'd like to invite him and his wife to dinner one of these days. Now the problem is I have no idea how to make anything without onion and/or garlic! They are very strict about their food. Help! I want to serve at least three entrees and rice and/or roti. Can you give me suggestions and/or recipes?

– Confused Cook
Dear Confused Cook,

Truth be told, I don't generally make a conscious effort to omit the use of onions and/or garlic in my vegetarian Indian cooking. So the scary thought of creating a menu for you without them got me thinking a lot about how I could alter some of my favourite vegetarian recipes. But as they say, perspiration gives way to perfection (I can swear I heard that somewhere!), and I'm happy to note that your very first vegetarian Indian dinner party – without any use of onions and garlic, can soon take shape.

– Meena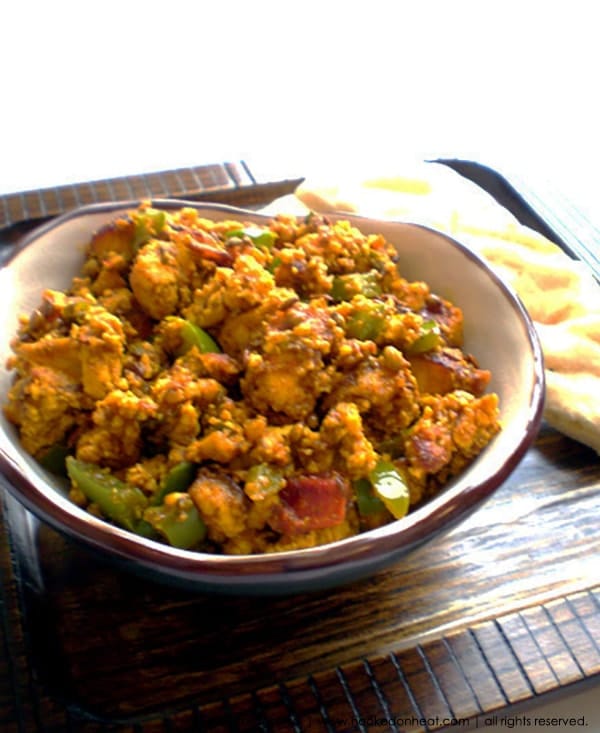 The menu I designed for this dinner includes classic favourites like Pulao, Dal, and Rotis. The vegetable dishes I've picked for this menu are either traditionally cooked without onions and garlic, or can easily be made without them, without compromising much on flavour.
Pakodas come in all shapes and sizes and can be made with almost anything you can imagine! These ones made with spinach are especially delicious and perfect as a starter to any meal. They are best enjoyed piping hot dunked into some spicy chutney or just good ol' tomato ketchup.
Dahi Vadas or Dahi Bhalla is sort of a snacky dish of fried lentil dumplings topped with cool creamy yogurt, a dollop of tangy tamarind chutney, and a sprinkle of mixed spices. It's an absolute delight to the senses and a party in your mouth – which is why I usually associate it to be perfect to serve at any get-togethers. You can either serve this in the beginning as an appetizer or lay it out on the table as part of the main meal.
Cook your choice of Dal in the normal way, omitting the addition of onions, ginger and garlic. Garnish with fresh coriander leaves.
I make this Baingan Bharta recipe regularly – not just to enjoy for ourselves but also when entertaining. It's super simple to bulk up to make more servings and is a definite crowd-pleaser. For a Jain version, you can skip the onions and increase the amount of tomatoes.
Chatpati Bharwaan Bhindi:
This is a wonderful way to jazz up this humble vegetable and create an okra dish that's perfect for entertaining. Chatpati simply means tangy and in this recipe, the addition of amchoor powder also known as dried mango, takes kicks it up a notch. It will be a lip-smacking addition to your menu.
Paneer Tak-a-Tak (recipe follows)
Again, omit the addition of onions.
Add in some Rotis and/or Puris, a Raita, salad and Papad, and there you have it CC, a wonderful, Jain accommodated hearty meal! For dessert, I suggest one of my favourites – Gajar Halwa which is sort of like a carrot pudding, best eaten warm.
Do you have any trouble planning a menu or fixing a meal? I'm only a few lines away…
Paneer Tak-a-Tak
Servings: 4
Ingredients
2 tbsp light cooking oil
1 tsp cumin seeds
1 tsp fennel seeds
1 tsp coriander seeds
1/4 tsp red chilli powder
1/4 tsp turmeric powder
1 tbsp coriander powder
1/2 tsp garam masala powder
1 medium-sized tomato finely chopped
salt to taste
500 gms paneer crumbled
1 green bell pepper finely chopped
Instructions
Heat oil in a deep non-stick pan and sauté cumin, fennel, and coriander seeds till they start to sizzle. Add in spices powders, tomatoes and season with salt. Fry for a few minutes till the tomatoes start to soften and pulp, and mix well with the spices.

Add in crumbled paneer and peppers, and mix well. Cook covered for another 4-5 minutes, stirring occasionally.
NOTE: For a vegan version, substitute paneer with firm tofu.
Tried this recipe? Leave a Comment and let me know, also Rate it by clicking the number of stars on the recipe card. Want to share your version with me? Tag me on Instagram @hookedonheat