For someone who writes and manages a food blog felicitously named, Hooked on Heat, it comes as a huge surprise to many when I confess that until very recently, say a couple of years ago, I belonged to the clan of folks who shied away from all things spicy. Ironically, it always petrified my Mom how her first-born could ever be averse to eating spicy food. Being one who can't swallow a meal that lacks in the redness that can only be born out of the addition of hand-ground fresh chillies, not once did she smile while separating my portion of the daily meal before spicing it up for the rest of the family. I can't even begin to imagine how she did it for this Ayam Masak Merah!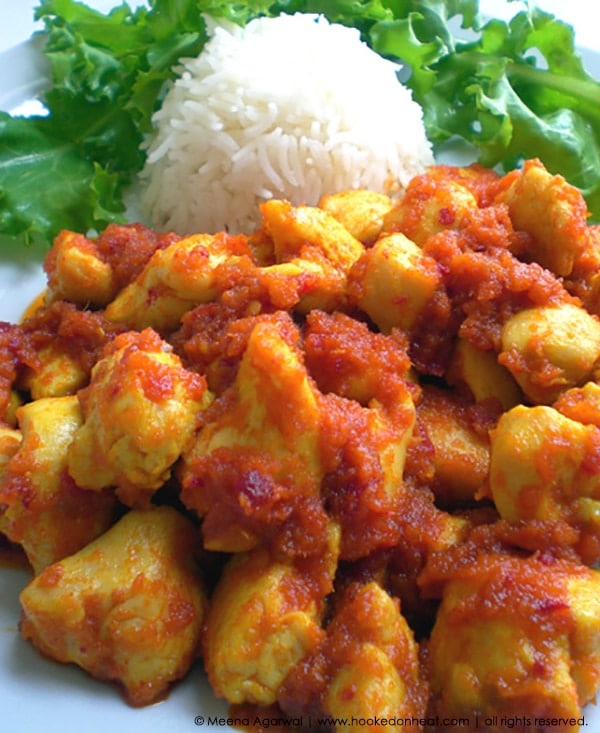 As the years passed, I began to realize that my taste preference and my spice level tolerance slowly started to grow. So much so, that it surprised my Mom a few days ago, how much heat I can actually tolerate when it comes to my favourite kinds of food. Malaysian food, obviously being one of them. Like two long lost best friends, Mom and I have been spending lots of time bonding in the kitchen over gossip and spice bottles. She, imparting her wisdom and showing me the tricks of the trade, and me, trying to grasp as much information as I can during the six short weeks that she's here. And amidst it all, Hubby Dear has been his most happiest with the wide spread Malaysian dishes that Mom lays on the dinner table with such ease, like this Ayam Masak Merah.
A few days ago, much to her delight, she discovered a jar of Sambal Olek in my fridge, which only motivated her more to enter the kitchen and whip something up. Over a discussion of what we could try next, I thought of a dish that I chanced upon a few years ago on one of our summer trips to Malaysia. Whenever I find a recipe that works for me, I know that it can only get better from there. Whether it's one concocted from my very own imagination, or a desperate attempt to imitate something I happened to come across that just took my breath away – like this Ayam Masak Merah, or one that a close friend solemnly swears by, I know that if I like it on my first try then there won't be any looking back. It took me only a few seconds before I could describe what I had in mind, and Mom was ready to get to work.
The verdict – I licked my plate clean, and now have another favourite to add to my repertoire!
Ayam Masak Merah (Malay-style Chicken in Spicy Tomato Sauce)
Servings: 4
Ingredients
3 large boneless chicken breast cut into bite-sized pieces
1/2 tsp turmeric powder
1 medium-sized onion roughly chopped
2 large tomatoes roughly chopped
2 stalks of lemongrass (the fresh bottom part only) roughly chopped
2 tbsp light cooking oil
1 tbsp minced garlic
1 tbsp minced ginger
1 tbsp sambal olek (red chilli paste)
salt to taste
water as needed
Instructions
Marinade chicken in turmeric powder and a pinch of salt, and set aside.

Blend onion, tomatoes and lemongrass to a smooth fine paste, adding a little water if necessary.

Heat oil in a non-stick wok and fry the marinated chicken till lightly browned. Set aside.

In the same pan, add in garlic, ginger and sambal olek, and fry to a few seconds till fragrant. Slowly add in the onion-tomato-lemongrass paste, stirring continuously till it starts to become slightly darker in colour and give out oil from the sides.

Mix in the fried chicken, and some water if necessary depending on the sauce consistency you prefer. Season with salt and let it cook covered for another 5-6 minutes till the chicken is completely cooked through. Serve warm.
This post was originally published in July 2007 and has been recently updated.
If you enjoyed this recipe, then you will surely love my Basil Chicken, Ginger Shrimp Stir-fry and Fried Egg Sambal recipe as well.
Tried this recipe? Leave a Comment and let me know, also Rate it by clicking the number of stars on the recipe card. Want to share your version with me? Tag me on Instagram @hookedonheat