Desserts have never been my forte in the kitchen – but this Pecan Brownie makes me feel like it is. I can happily cook and feed a crowd without batting an eyelid, but when it comes to setting out the desserts on the table – I often resort to other means. Fortunately, I always have friends or family who are generous enough to want to bring something to the party. And without a doubt, I'll tell them I need help with dessert! Other times, I simply hop into my local bakery and pick up a decadent cheesecake or a few fruit pies, or skip to my nearby Indian takeaway for a huge tub of their Gulab Jamun.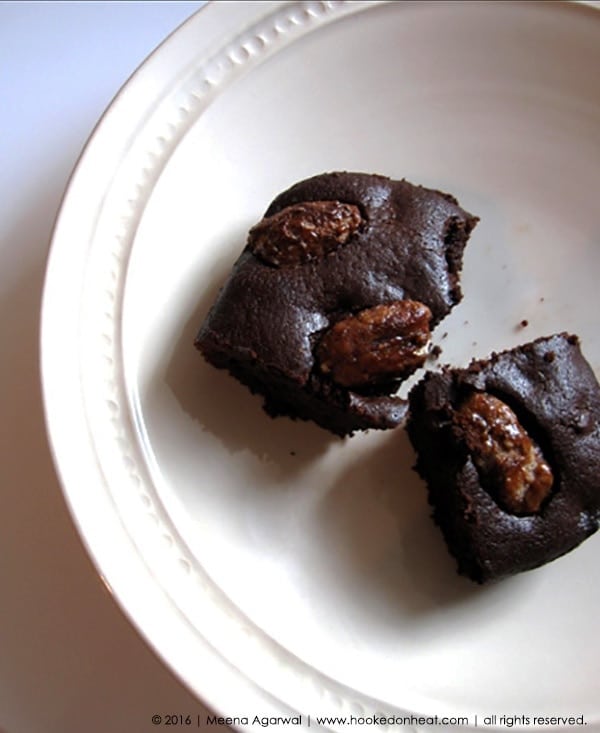 There was this ONE time, a long, long time ago, when Hubby Dear decided to take matters into his own hands. He somehow managed to convince me that he would be in charge of dessert this time and I only needed to concentrate on preparing the food. I don't why or how, but I gave in. So as we shopped for our groceries for the dinner party I had planned ahead, I noticed Hubby Dear place 2 boxes of Brownie mix into the cart.
Come party day, all the food smelled great and looked delicious set on the table. I had almost forgotten about dessert until Hubby Dear told me that he had it all under control and would put the brownies in the oven to bake once dinner was served, so that come dessert time, we would have warm fudgy brownies waiting for us. It sounded too good to be true! An hour later, as we started to clear the table and got ready to set out the coffee, Hubby Dear announced that fresh baked warm Brownies were ready to be served. The house filled with the aroma of deep, dark chocolate baking. As I happily opened the oven to take out the tray of Brownies, I was in for a surprise. The brownies, after being in the oven for 25 minutes, had still not been cooked through and looked quite soupy. We then realised that the self-proclaimed MasterChef had read the instructions wrong and added in twice the amount of water than needed.
We had no choice but to let the oven take its time and crossed our fingers for something even slightly edible to come out of it. The night did end well though! After all, when you have great friends and unlimited bottles of wine to flow around, what's a little brownie mishap! This Pecan Brownie recipe, however, is one that I learnt after that episode. Now, no matter what, I know that I can at least have a delicious no-fuss brownie on the table alongside some ice cream to end a meal on a happy note!
What were some of your unforgettable kitchen mishaps? Please share, I'd love to hear them!
DARK CHOCOLATE PECAN BROWNIES
Ingredients
1/4 cup melted butter
2/3 cup light brown sugar
1 egg
1/4 plain yogurt
1 tsp vanilla extract
1/3 cup all purpose flour
1/3 cup cocoa powder
1 tsp baking powder
1/4 tsp semi-sweet chocolate chips
1/4 cup chopped candied pecans
handful of whole candied pecans
Instructions
Preheat oven to 350 degrees.

In a large mixing bowl, beat the butter, sugar, egg, yogurt and vanilla extract till well mixed. Slowly fold in the flour, cocoa powder and baking powder, and mix well. Now gently mix in the chocolate chips and chopped pecans.

Pour the batter into a greased 8? square baking pan, top with whole candied pecans and bake for 20-25 minutes till cooked through.
Tried this recipe? Leave a Comment and let me know, also Rate it by clicking the number of stars on the recipe card. Want to share your version with me? Tag me on Instagram @hookedonheat