Christmas came and went, but not without filling us up to the brim with good food like this Chilli Paneer and great company. The cookie jars have been emptied, and the Christmas tree stands in all it's glory waiting to be taken down by some lazy people (read: Hubby Dear!) who'd rather postpone the daunting task till the next Christmas.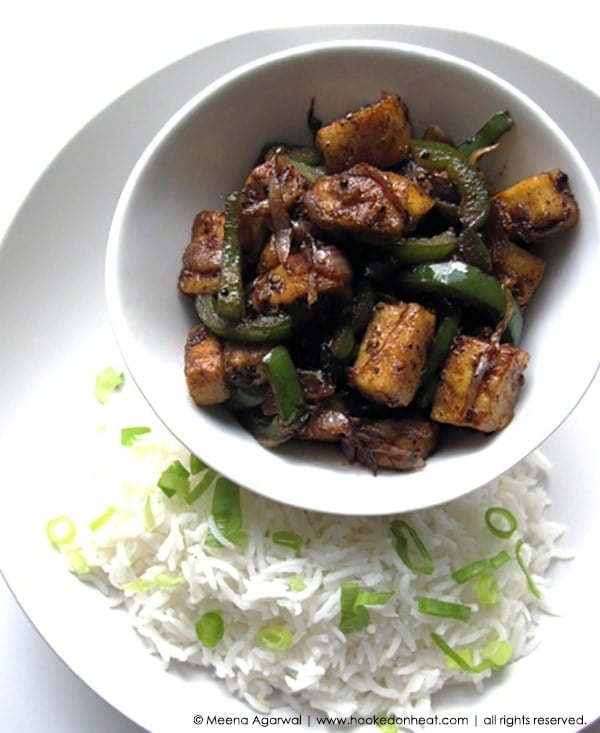 While we've gorged on feasts of rich sinful food the past couple of days, it's now time to loosen down a little before the biggest feast of the season – the New Year's Dinner that I plan and carry out with much elegance. The menu has been tried and tested, the serving dishes have been laid out and friends and loved ones have been duly warned to come with ready and growing appetites.
The year-end always brings me to a point where I can't help but take a stroll down memory lane and acquaint myself once more with all the good, and some not-so-good memories that passed me by. This blog has been a wonderful outlet for me in times of joy and contemplation. My food speaks of my various moods and my write-ups brought me closer to my inner thoughts.
When I woke up this morning, I knew I just had to put in a final post for 2006, and what better than to follow it up with a recipe so dear and near to my palate – Chilli Paneer (recipe updated and can be found here). Being a sucker for spicy food, this dish brings together the best of the East and West. It's a perfect blend of spice and all that's nice, and a quick run-to option on cold dreary days when the heart wants some warmth!
While people around me are busy making long never-ending lists of thankyou's, I wanted to take this opportunity to welcome the new challenges that await me. It's been a fun ride so far, and I expect the year ahead to get even better.
Have a Happy New Year, my lovelies! See you in 2007!
CHILLI PANEER (DRY)
Servings: 4
Ingredients
2 tbsp light cooking oil
1 tbsp finely chopped ginger
1 tbsp finely chopped garlic
2 medium onions thinly sliced
400 gms paneer cut into bite-sized cubes
1/4 tsp turmeric powder
1/2 tsp red chilli powder
1 medium green bell pepper thinly sliced
2 tbsp low-sodium soy sauce
salt and pepper to taste (add in extra pepper for that zing)
a handful of chopped green onions for garnish
Instructions
Heat oil in a large non-stick wok and add in ginger, garlic and onions. Fry for a few seconds till fragrant before adding in the paneer. Stir-fry paneer on high heat, tossing continuously, till the edges start to brown.

Lower the heat to medium and toss in the spices. Add in green pepper, soy sauce, season with salt and pepper, and stir-fry for a 2-3 minutes till everything is mixed well.

Garnish with chopped green onions and serve warm with plain rice of a side of Fried Rice.
Made this recipe? Rate it by clicking the number of stars on the recipe card. Want to share your version with me? Tag me on Instagram @hookedonheat