This recipe for Spicy Masala Devilled Eggs was created in partnership with Egg Farmers of Canada. All opinions, as always, are my own. I only write about and recommend products I use and love myself.
Call me crazy but is there anything better than a Devilled Egg to get the party started? Throw in an Indian twist to that with a touch of some spices and you're ready to roll! I was recently challenged by Egg Farmers of Canada to create a Devilled Egg recipe that was out of the ordinary and that's exactly how these Spicy Masala Devilled Eggs came to be!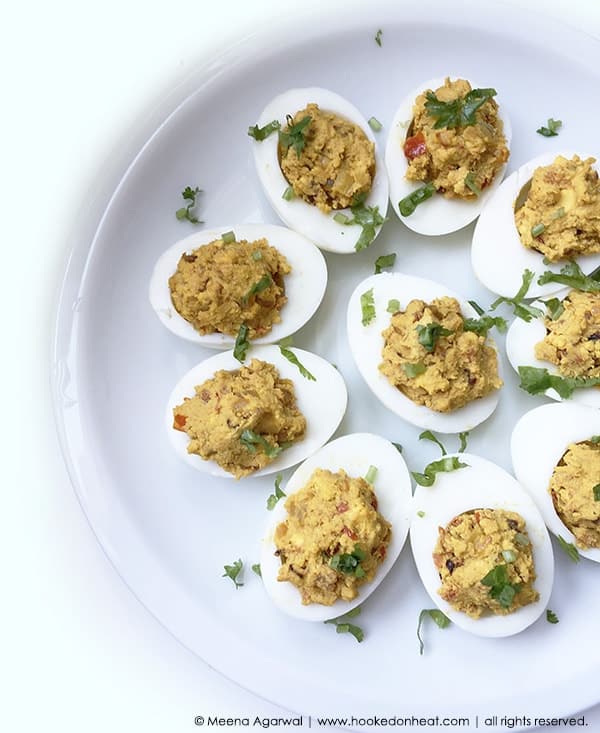 No matter how low I am on groceries (which is very, very rare – I must admit), you can always find some onions, garlic, tomatoes, potatoes and eggs in my kitchen. This is because I consider these ingredients to be my must-haves and with them in tow, a quick, nutritious and tasty meal is never far behind. Eggs are always a versatile ingredient and can very easily adapt to Indian spices and flavours.
October 9th is World Egg Day, and this year Egg Farmers of Canada is taking a moment to celebrate the heroes and champions in our food industry who work together to deliver the fresh, local, high-quality eggs that Canadians want and enjoy. I'm doing my part by creating and sharing this recipe for Spicy Masala Devilled Eggs. I plan on making this again as an appetiser for our small and simple Thanksgiving meal this year.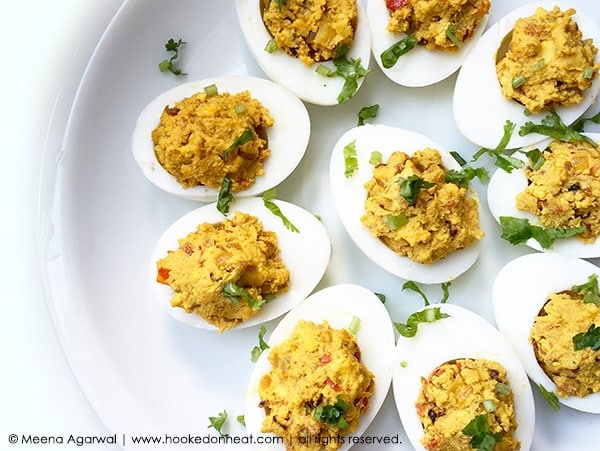 Join me and Egg Farmers of Canada in celebrating those working together to keep us Canadians fed by watching (and sharing) this video featuring Chef Lynn Crawford and the Canadian egg farmers who share their gratitude on World Egg Day.
So tell me, how will you enjoy eggs on World Egg Day?
Spicy Masala Devilled Eggs
Servings: 4
Ingredients
8 large hard-boiled eggs
2 tbsp light cooking oil
1 small onion finely chopped
1 small tomato finely chopped
1/2 tsp red chilli powder
1/4 tsp turmeric powder
1 tbsp coriander powder
1/4 tsp garam masala
salt to taste
finely chopped fresh cilantro leaves for garnish
Instructions
Peel and cut the boiled eggs in half lengthwise. Remove the yolks and place them in a deep bowl.

In a small non-stick pan, heat oil and saute onions till translucent and tender. Be careful not to brown them.

Add in spices and tomatoes and saute for a few minutes till the tomatoes start to pulp and blend well with the spices. Season with salt.

Once the spice mix is slightly cooled, add it into the bowl with the egg yolks and mix well till smooth.

Carefully spoon the spiced egg yolk mix into the crevices of the boiled egg whites.

Garnish with fresh cilantro and serve.
If you like this recipe, then you will surely enjoy my Indian Masala Omelette and Egg Sambal recipe as well.
Tried this recipe? Leave a Comment and let me know, also Rate it by clicking the number of stars on the recipe card. Want to share your version with me? Tag me on Instagram @hookedonheat using the hashtag #WorldEggDay