What is it with rainy days and cravings for deep-fried goodies going hand-in-hand? Well, in my house, its just the norm. So while it drizzled, rained and poured all through the weekend, there was nothing much we could do than watch tons of movies and eat good food! While the movie list was dominated with animated flicks, the kitchen had just one theme – Deep Frying!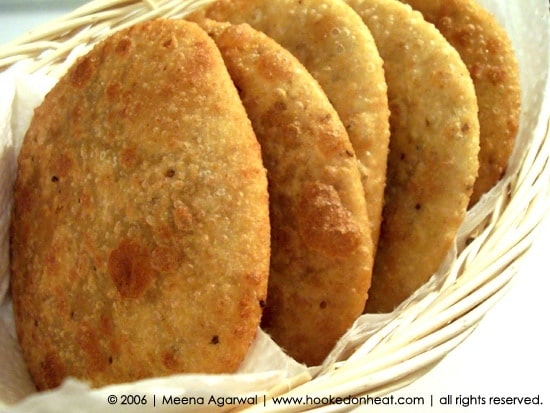 Usually, hubby dear and I would simply settle for a big bowl of fries and spicy wings, but it was not to be the case this time. Yup, we wanted something different and not to mention, GOOD!!
So as we debated and counter-debated what we wanted to dip our fingers into, there came a point where we both knew it was a fine compromise. Considering the fact that this is one of hubby dear's favourite rainy-day eats, and the fact that this would be the first time ever I was attempting a hand at it, made it quite an adventure. Needless to say, I found yet another dish I excelled at, and hubby dear, well, let's just say, he was in food paradise!

DAL KACHORIS (Deep-fried lentil-stuffed bread)

Ingredients:

For the Kachoris:

2 cups whole wheat flour (atta)
1 tbsp cooking oil
1/2 tsp salt

water, as required
oil for deep frying

For the filling:

1/2 cup toor dal, soaked in hot water for 1-2 hrs
salt, to taste

1 tsp cumin seeds
1/4 tsp red chili powder
1 tsp cooking oil

Directions:

Grind soaked dal coarsely in a food processor and set aside.
In a non-stick pan, heat 1 tsp oil, and saute cumin seeds till they begin to sizzle.
Add in coarse ground dal, salt and chili powder and fry for a few minutes till dal dries up and starts to toast a bit. Set aside and allow to cool completely.
Mix flour (atta) with salt and one tbsp of oil and form into a smooth dough with water.
Separate dough into golf-sized balls and set aside.
For each dough ball, roll out the dough into a small circle and put around one tbsp of the filling in the centre. Bring the ends of the circle together and form into a ball.
Seal the edges completely so that the stuffing does not come out. Roll out these dough balls into a small puris.
Deep fry till brown and crisp on both sides.
Enjoy warm with chutney and masala chai!