I remember the first time I introduced Hubby Dear to Malaysian food. It was during our initial dating days and I'd read about this family-run Malaysian restaurant in Toronto which seemed to have great reviews. Now, the only Malaysian food I've ever been exposed to are the dishes that either came out of my Mom's kitchen or that of her family's back in Malaysia as well as the road side stalls over there. Needless to say, up until then, I'd only had the good fortune of eating authentic, homemade Malaysian cuisine. So like Hubby Dear, I was equally excited and intrigued to eat at this particular joint.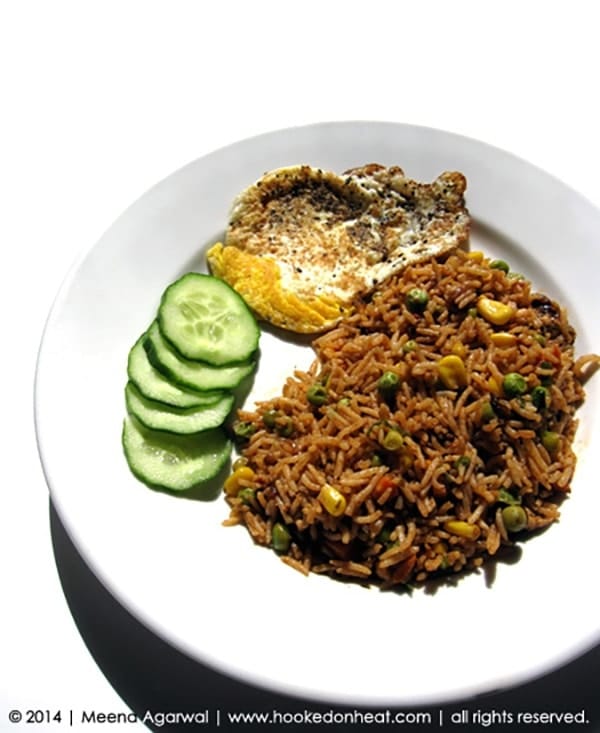 The menu looked promising – all the popular favourites that I had briefed Hubby Dear about were available, and I started to order us a scrumptious sounding meal. Then came the dreaded question from our server: "What spice level did we prefer?"
For those not in the know, typical Malay food tends to be on the spicier side – even more than the average Indian heat level. Most of the time it really depends on the dish itself, but if you're a first timer to this delicious cuisine, I'd suggest going a milder route. I had already mentioned this to Hubby Dear prior that if in any case they were serving authentic versions of the dishes then it would be quite spicy. But he was to have none of it! As an Indian, he prided himself on the number of chillies he could muster in a meal. With a broad smile on his face, he proceeded to ask the server to make our food "spicy".
The rest as they say, is history! The food was absolutely delicious, no doubt, and thanks to Hubby Dear we managed to put out the fire on our tongues after every spoonful with a glass of water. It was a lot of water we had that evening, but the flavours triggered a new found love for him like no other. Malay food is a favourite in our house – even Baby Dear is a fan, and the go-to cuisine whenever we go out to celebrate. So it's only fitting that I tried and replicate a classic dish on the event of our 9th marriage anniversary. It's by no means claimed as authentic, but it does come pretty close in flavour to real thang.
So here's to you Hubby Dear – for 9 years, over a million laughs and countless acts of love. And also to many more to come. May the spice level never die down!
NASI GORENG (MALAY-STYLE FRIED RICE)
Prep time: 10 min | Cooking time: 15 min | Serves: 4

Ingredients:

2 tbsp cooking oil
1 tbsp crushed garlic
2-3 shallots, thinly sliced
1/2 tsp white pepper
1 tsp dried chives
1 tbsp chilli paste
2 tbsp tomato paste
1/2 tsp tamarind concentrate
1 cup finely chopped chicken breast
2 cups mixed frozen veggies (peas/carrots/corn)
salt, to taste
3 cups cooked plain rice
2 tbsp light soy sauce
chopped spring onion for garnish

Directions:

Heat oil in a non-stick pan and fry garlic and onions till lightly browned and fragrant. Add in white pepper, dried chives, chili paste, tomato paste and tamarind concentrate, and fry for a minute or two till it starts to give out oil along the sides.

Add in chicken and stir-fry till cooked through. Mix in vegetables, season with salt and stir-fry till all the water from the vegetables evaporate.

Add in rice and mix well. Splash soy sauce and stir-fry rice till everything is mixed well.

Garnish with spring onions and serve warm with a side of fried egg.
Tried this recipe? Leave a Comment and let me know, also Rate it by clicking the number of stars on the recipe card. Want to share your version with me? Tag me on Instagram @hookedonheat