Baby Dear and I have an afternoon ritual of sorts, on days that he goes to preschool. As soon as I strap him into his car seat and settle in to begin our drive home, he always asks me what I've planned for dinner. After I tell him what's on the menu for that night, I then ask him what he had for lunch. His answers always make me smile – partly from knowing that my 'lil gourmand is being well fed, and part from the way he tries to string his words together. Like the time he had lasagna, and couldn't remember what it was called. After a few minutes of pondering, he finally blurted out. "What's Garfield's favourite food?". Yes, he's super funny like that!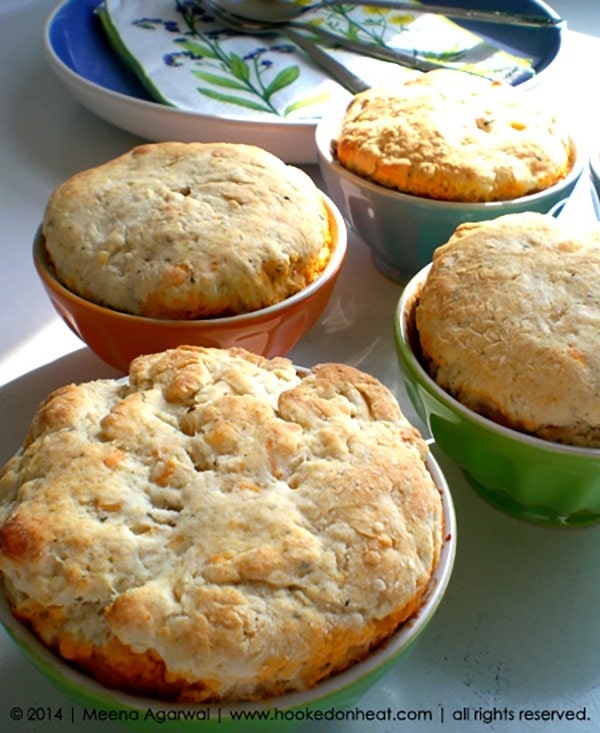 The daycare he goes to gets the kids' lunches catered. When I first glanced at the menu, I got a wee bit jealous and not to mention, nervous. The list included dishes like Roasted Veggie Lasagna, Butter Chicken, Pasta in Kale Pesto and Fish Picata. Fish Picata? Really? For 3 year olds? As much as I absolutely loved the fact that Baby Dear would be fed a variety of gourmet meals ranging in taste and texture, it also worried me if my often simple home cooked meals would have him turn his nose up at it. How silly was I! Baby Dear enjoys the humble Grilled Cheese with Tomatoes with as much pleasure as he savours a slow-cooked Biryani. The kid loves good food – as long as its tasty, he's game!
A few months ago, Baby Dear told me he had Chicken Pot Pie for lunch. Well, he actually said he had pie with chicken, peas and carrots. I kinda put the two and together and figured that's what it meant. He had it again some weeks back and told me how much he liked it and wanted me to make it for dinner some day. Then, sometime last week, while I was watching the Food Network, Baby Dear happened to glance at the screen and see Chicken Pot Pie actually being made. He screamed with delight and demanded I make it as soon as possible. I finally promised him I would.
Well, as I was thinking about what to cook for dinner today, I peeked into the fridge and stared at a container of some leftover Chili from a few days ago. The idea suddenly hit me; and although it's no REAL Chicken Pot Pie, it definitely made Baby Dear request me to make it again soon!

INDIVIDUAL CHILI POT PIES
Prep time: 10 min | Cooking time: 10 min | Makes: 8 mini pies

Ingredients:

4 cups leftover chili
1 can of readymade pie dough, cut into 8 circles sized to fit the tops of the ramekins

Directions:

Spray 8 mini ramekins with a bit of oil along the edges.

Place half a cup of chili in each of the ramekins. Top each ramekin with a circle of pie dough and bake according to package instructions till the tops are cooked through. Serve warm.
Tried this recipe? Leave a Comment and let me know, also Rate it by clicking the number of stars on the recipe card. Want to share your version with me? Tag me on Instagram @hookedonheat