If you ever happen to just drop by my home on short notice or unannounced, chances are high that you will be served a meal that would definitely star one of my go-to potato recipes. This humble vegetable is a boon to home cooks everywhere, and I consider it a part of the Indian kitchen trinity alongside onion and tomatoes. In fact, even on days when my fridge is almost bare and I need to make a desperate run to store, I can always count on falling back on these three. Combined with a pantry full of various lentils, beans and grains, and variety of spices on hand, the options for a simple healthy dinner are endless!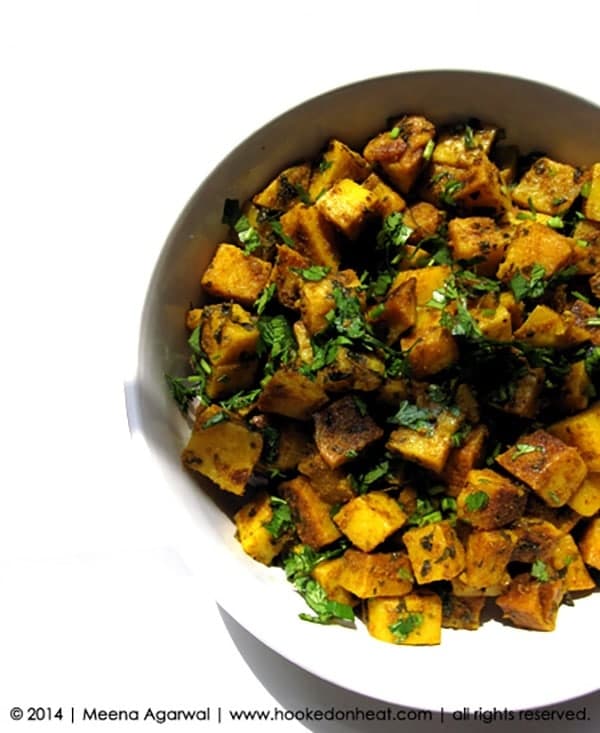 Hubby Dear is the die-hard potato fan in our home. So much so, that I often say all I have to do is throw him the tuber when he starts to whine in hunger and he's a happy camper! I guess it makes us the perfect match since I'm known as the potato magician in the family. It's been said that my potato recipes are finger-lickin' and we have friends and family who always request them at every meal they eat at our table. But I digress.
Potatoes are definitely very versatile and take on any flavor added to them with ease. They're simple to prep and even easier to handle while cooking, so what's not to love! The recipe I'm sharing with you today is one I keep in my back pocket. If you have the few ingredients it asks for on hand, which I always do, this dish is perfect to throw together as that final side to bring the whole meal together. Leftovers work wonderfully slightly mashed up and sandwiched between toasted bread. Or serve it by self warm with toothpicks alongside some iced drinks! No matter which way you decide to bring it to the table, I can guarantee that your family will linger around till its all gone!

SUKHE ALU (SAUTEED POTATOES WITH SPICES)
PREP TIME: 10 MIN | COOKING TIME: 20 MIN | SERVES: 2 AS MAIN, 4 AS SIDE

Ingredients:

2 tbsp light cooking oil
1/2 tsp turmeric powder
1/2 tsp red chilli powder
1 tsp coriander powder
1 tsp amchoor powder
1 tbs kasoori methi
4-5 medium potatoes, peeled and cubed
salt, to taste
handful of finely chopped cilantro leaves for garnish

Directions:

Heat oil in a large deep non-stick pan on medium heat and add in the spices and kasoori methi. As soon as they start to sizzle, add in cubed potatoes and stir-fry to coat the each piece with the spice mix.

Cook covered on medium heat, stirring occasionally, till potatoes are tender and cooked through. Season with salt.

Garnish with fresh cilantro leaves and serve hot with fresh made rotis or a side of rice.
Tried this recipe? Leave a Comment and let me know, also Rate it by clicking the number of stars on the recipe card. Want to share your version with me? Tag me on Instagram @hookedonheat