If you, like me, are always itching to take a peek into someone's fridge and pantry just to know how they cook and eat on a daily basis, then boy do I have a treat for you! This new series, 'In the Kitchen with…', will let you step into the kitchens of different food personalities all over the world and give you a behind the scenes view on what goes on around their stove. For more posts in this series click here…
I'm sure any home cook must've surely gotten a glimpse of the fabulously homely show, French Food at Home with Laura Calder. Like many I know, I always thought of French cuisine as one that oozes out elegance, which automatically went on to mean laborious planning and cooking techniques. Once I got a taste of Laura's show, I was forced to change my pre-conceived notion of fancy French food. She makes the most elegant dishes seem so comforting and so very doable.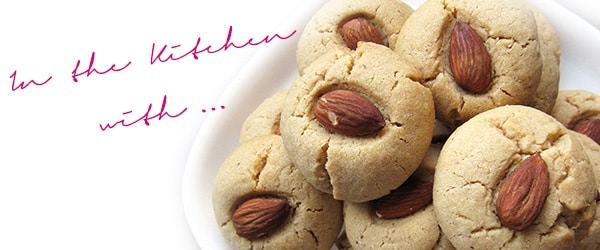 I recently had a chance to catch up with her over an essay she wrote for 'Alone in the Kitchen with an Eggplant', that I thoroughly enjoyed, and decided to quiz her on kitchen routine...
What did you eat today?
Well... not what I normally eat. During a shoot, my eating habits change completely because I burn up so much energy. I have a smoothie every morning + an egg on toast (whereas, normally, I just drink tea). Then, all through the day as I cook my way through a show, I devour each of my recipes. This is great when I do a menu show; but it is torture when I do, say, a chocolate show or a pastry-only show. I get home quite late, so I don't eat anything at night. I go straight to bed. In normal life, however, I always have an excellent dinner. It's my favourite meal of the day.
What do most enjoy cooking?
There is no one thing that I most enjoy cooking. I like being in the kitchen generally, so pretty much anything goes, although I don't like things that demand too much perfection and finicky work. I'm not detail-oriented enough for that kind of thing.
In your fridge, we can always find:
Milk, butter, cream, creme fraiche, cheese... Capers, dijon mustard, eggs, cornichons.... a bottle of white wine, probably... And lots of vegetables.
Your most cherished kitchen tool?
I get asked this a lot... I don't have a lot of kitchen tools, because I am a basic cook, but those microplane graters are pretty indispensable. I also love my metal pastry scraper.
The last cookbook you enjoyed?
I use my Larousse Gastronomique constantly, and I can't wait for Anne Willan's new book to hit the stands: The Country Cooking of France. It is excellent.
Where does your love for food come from?
I'll have to ask a shrink that someday.
When was the last time you cooked for a loved one? What did you make?
I cook for people I love all the time, but the shoot has been in my way all summer, so I can't remember... I do recall a recent strawberry galette which I made about 15 times trying to perfect. It's in season two so watch for it!
What is your guilty food pleasure?
I have no guilt when it comes to food, just pleasure.
What according to you is the one dish that everyone should try at least once?
You can't dictate this kind of thing: appetites differ and I respect that. What I do think everyone should be forced to try, however, is a proper carrot straight from a garden, corn straight off the stalks and thrown into a pot, an excellent butter croissant straight out of a wood oven... The best of whatever it is we like, in other words, so that we raise our standards.