If you, like me, are always itching to take a peek into someone's fridge and pantry just to know how they cook and eat on a daily basis, then boy do I have a treat for you! This new series, 'In the Kitchen with...', will let you step into the kitchens of different food personalities all over the world and give you a behind the scenes view on what goes on around their stove. For more posts in this series click here...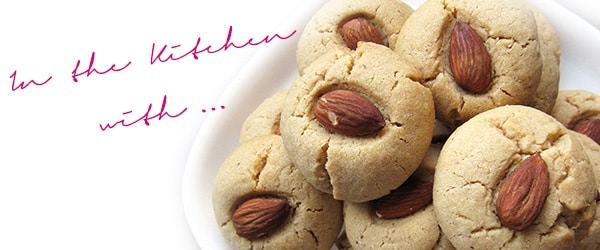 Our guest today is the ever so lovely Jan from the blog Family Bites. I've been following Jan's blog for a long time now and love how her recipes are always so inviting. She's also co-authored a cookbook with Julie Van Rosendaal called Gatherings, which happily sits on my 'Favourite Cookbooks' shelf. Without further ado, let's quiz her on her kitchen habits.
What did you eat for lunch today?
Because it's nearly 40° outside today, I had a smoothie for lunch. It's called a raspberry punch and is made with orange juice, coconut water, a banana, fresh strawberries and frozen raspberries. Refreshing and totally tasty!
What kind of food do you most enjoy cooking?
Simple, whole food is really what appeals to me most. Hearty meals that keep my teenage boys well fed. Anything you've ever heard about how much boys eat is 100% true, and seeing as I have three sons you can bet cooking for them is easily my favourite kind of food to put on the table.
In your fridge, we can always find…
Lots of cheese! And Dijon mustard, yogurt, butter, eggs, fresh produce and milk. Oh, and wine, too, of course. And pickles!
Your most cherished kitchen tool?
I don't know if I have one, but the tool I reach for the most is my wooden spoon. Not a day goes by where I don't use a Dutch Oven for something (jam making, sauce simmering, meat searing, etc.) so that might truly be my most cherished item now that I think about.
The last cookbook you enjoyed?
Oh, this is a tough one. Like most cooks and food writers I have a crazy large collection of books that I turn to often for inspiration. Lately, I've been enjoying Food 52's Genius Recipes and my friend Amy's new book (an instant Canadian best-seller, by the way!) The Canning Kitchen.
Where does your love for food come from?
I wasn't born into a family that spent a lot of time cooking. It was a daily practice that was more of a chore for my parents than something of pleasure, but after University I worked and lived in the South of France for a year and that completely changed my thoughts on food and cooking and how it's so worth taking the time to make a meal for yourself and the people you care about.
When was the last time you cooked for a loved one? What did you make?
Tonight, for dinner! I made a turkey taco salad with black beans and corn. Simple, seasonal and healthy with lots of leftovers for my boys' late-night snacking.
What is your guilty food pleasure?
Cheese. I really am pretty obsessed with it.
What, according to you, is the ONE dish that everyone must try at least once?
Oh, gosh, I really don't know. Food is so subjective that I would never presume to think that someone should and would love something just because I do. Having said that, I think warm, fresh-baked biscuits or scones served with good butter are one of life's simplest pleasures and would hope that everyone has the chance to try them at least once.