If you, like me, are always itching to take a peek into someone's fridge and pantry just to know how they cook and eat on a daily basis, then boy do I have a treat for you! This new series, 'In the Kitchen with…', will let you step into the kitchens of different food personalities all over the world and give you a behind the scenes view on what goes on around their stove. For more posts in this series click here…
I first got a chance to read Erin Ergenbright's writing when I got my hands on this delightful read. Her voice was an instant hit with me. A while later, I was able to get hold of her 'The Ex-Boyfriend Cookbook', a fun book with recipes gathered from, you guessed right, ex-boyfriends! I simply couldn't pass up a chance for a tete-a-tete with her, and just had to take a peek into her kitchen habits.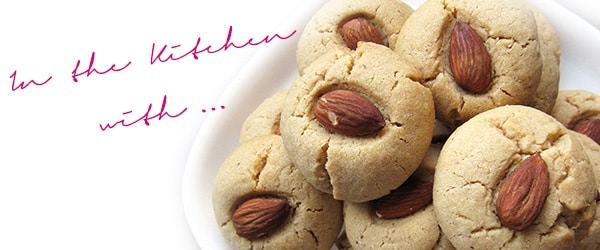 What did you eat today?
Scrambled farm eggs with spinach and garlic, a banana, a tuna sandwich, part of a lemon bar from the Farmers Market (they never taste quite as good as they look, but I'm always tempted), a lovely Caprese salad made by my friend Natalie, and, I'm more slightly ashamed to admit this because it's a rare event (honestly) but it was late and I was hungry and there wasn't much else in the cupboard: Annie's macaroni and cheese (made with fresh, creamy milk from a local farm, pepper and ketchup).
What do most enjoy cooking?
I love making my mother's picadillo recipe - it's actually in The Ex-Boyfriend Cookbook, and attributed to someone named Phil, who, in reality, didn't cook for me. He would have, maybe, but we lived in a dormitory. And we were eighteen. Anyway, the picadillo tastes amazing, and it somehow soothes me to prepare it: it has the perfect amount of chopping and mixing and savoury smells.
In your fridge, we can always find:
Farm eggs, milk, spinach, peanut butter, a variety of soft and hard cheeses, and Castelvetrano olives - these buttery olives are nearly round and the most gorgeous shade of green imaginable.
Your most cherished kitchen tool?
Not counting the coffee maker, I'd say my melon baller. Not the most used instrument in the drawer, but the most cherished, as it was my grandma's.
The last cookbook you enjoyed?
Mangoes and Curry Leaves: Culinary Travels through the Great Subcontinent, by Jeffrey Alford and Naomi Duguid. It's part coffee table book, cookbook and travel journal, and is completely riveting.
Where does your love for food come from?
My mom is a wonderful cook - growing up we ate dinner together every night, so good food has always seemed both important and, well, "normal."
When was the last time you cooked for a loved one? What did you make?
Apparently it wasn't recently since I'm having to struggle to remember--ah yes: it was a sort of a summer salad medley. Curried chicken and rice salad; cucumber, red onions, tomatoes and rice wine vinegar salad, and spinach salad with strawberries and balsamic.
What is your guilty food pleasure?
Peanut butter. I eat far, far too much peanut butter.
What according to you is the one dish that everyone must try at least once?
Brussels sprouts prepared with a lot of butter and coarse ground mustard. I thought I hated brussels sprouts, but I'd like to do my part to redeem this much-maligned vegetable.