If you, like me, are always itching to take a peek into someone's fridge and pantry just to know how they cook and eat on a daily basis, then boy do I have a treat for you! This new series, 'In the Kitchen with...', will let you step into the kitchens of different food personalities all over the world and give you a behind-the-scenes view on what goes on around their stove. For more posts in this series click here...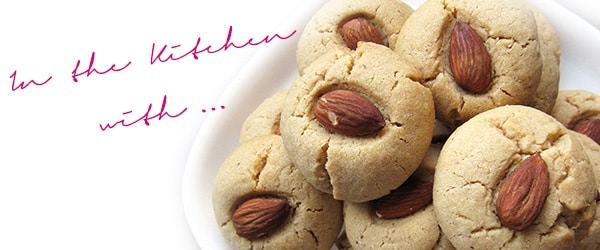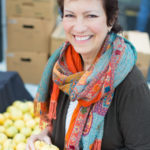 Our guest today is the lovely writing coach and author, Dianne Jacob. Dianne coaches food writers and bloggers on getting a cookbook published and improving the quality and effectiveness of their writing. She is the author of a multiple award-winning book on food writing, Will Write for Food: The Complete Guide to Writing Cookbooks, Blogs, Memoir, Recipes and More. Previously a newspaper, magazine and publishing company editor-in-chief, she has a blog and free newsletter aimed at food writers and bloggers.
Without further ado, let's quiz her on her kitchen habits.
1. What did you eat for lunch today?
Mulligatawny Soup; eggs with asparagus, chorizo and croutons; half an apple; 1 chocolate-covered almond.
2. What kind of food do you most enjoy cooking?
Vegetable soups.
3. 3 things we can always find in your fridge…
Anchovy paste, tahini and whole milk.
4. Your most cherished kitchen tool?
My mother's stone Mortar and Pestle.
5. The last cookbook you enjoyed?
Beyond the North Wind, by Darra Goldstein.
6. Where does your love for food come from?
My parents. My mother cooked and baked almost every day. My father made his own leban, brined cheese and pickles.
7. What was the last meal you cooked? How long did it take you from start to finish?
Fish with roasted vegetables and steamed artichokes. It took 40 minutes.
8. What is your guilty food pleasure?
Candy, especially liquorice and gummy candies.
9. What, according to you, is the ONE dish that everyone must try at least once?
Grilled hamachi collar.
10. If you could choose 5 people (dead or alive) to invite to your dinner party, who would they be? What would your menu look like?
My parents, sister, a dear cousin, and an aunt and uncle. All but my sister are deceased. We would dine on my mother's cooking: Iraqi Jewish, and Iraqi Jewish Bombay dishes.