If you, like me, are always itching to take a peek into someone's fridge and pantry just to know how they cook and eat on a daily basis, then boy do I have a treat for you! This new series, 'In the Kitchen with...', will let you step into the kitchens of different food personalities all over the world and give you a behind the scenes view on what goes on around their stove. For more posts in this series click here...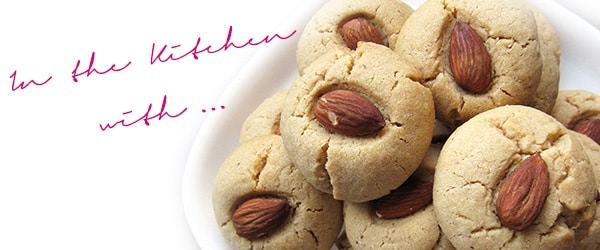 Our guest today is the lovely Ashley from the blog, The Recipe Rebel. Ashley's food blog is filled with mouth-watering recipes, and her desserts are absolutely to die for! Without further ado, let's quiz her on her kitchen habits.
What did you eat for lunch today?
3 (homemade!) cheesy chicken fingers!
What kind of food do you most enjoy cooking?
My favourite food to cook is comfort food -- it reminds me of the kind of food my mom cooked growing up! Hearty and homemade 🙂
3 things we can always find in your fridge…
Cheese and flavoured coffee creamer. Oh yeah, and tons of veggies for the kids! 😉
Your most cherished kitchen tool?
This is a hard one. I'm not really into gadgets! I would have to say my KitchenAid stand mixer but I think I could probably even live without that.
The last cookbook you enjoyed?
The Ultimate Cookbook from Canadian Living
Where does your love for food come from?
Growing up in a family that gathered around the table!
What was the last meal you cooked? How long did it take you from start to finish?
Haha, I wish I cooked in "meals" these days! Mostly I cook in parts of meals for the blog that I somehow piece together into a "meal" for my family.
What is your guilty food pleasure?
Lately? COOKIES. I can't resist a cookie. But they have to be chewy and not too thick.
What, according to you, is the ONE dish that everyone must try at least once?
Saskatoon Perogies! It's a family tradition and my favourite meal ever.