As a kid, I loved sleeping in. Obviously, with school on weekdays, it was hard to keep my eyes shut with Mom screaming from the kitchen for me to get dressed. But not weekends. Aah… weekends were when I could get as much shut eye as I wanted – or rather, as much as my parents allowed me! There was a time when my Dad had to scan the markets to find an alarm loud enough to break my sweet slumber. Alas, even then Mom would come running to my room to shut it off before the neighbours heard the deafening shrill. But me, I did not even twitch a muscle. I truly believed that had I been Sleeping Beauty, the fairy tale would've ended very differently! But who am I kidding? That was eons ago, in a time when sleep for me was more of a sport than a luxury. I think all moms reading this can nod their heads in agreement that once the home has welcomed its first baby, our sleep and life as we know it, takes a completely different turn!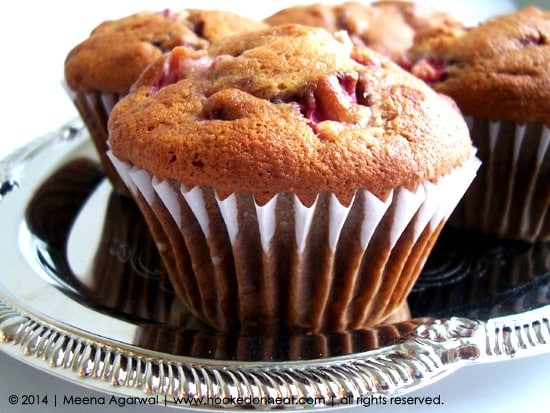 Baby Dear is a morning person in every sense of the word. He wakes up bright-eyed and bushy tailed every weekend when the sun comes out and announces his rising through the baby monitor as loud as he possibly can. Either Hubby Dear or I will then, in our dazed half asleep state, bring him into our room and put him in the middle of our bed under the covers with the cartoons turned on. Then, we fall back to sleep. In the meanwhile, our Tarzan baby who has learned that no amount of coercing will wake up his sleep-deprived parents, will entertain himself with the TV, reading his books or playing – all the while nestled between the both of us. But this will only last a few minutes till he realizes that its no fun talking to yourself and not getting any responses back. And Baby Dear is nothing if he can't talk and be talked back to.
So there we are, up and early on a Saturday morning at the kitchen table. And that's exactly why I tend to always have a stash of some delicious baked goodies to tie us over till I've had my first sip of coffee and can actually start thinking of what to feed my family. This recipe is one of our favourites, and one that I've made upmteen number of times. It's perfect to take with you on the go for a quick morning bite. Or, if you're fortunate like us and have a happy early riser to shake you off your deep, sweet slumber, then it'll feel like a godsend to have them at arm's length!
STRAWBERRY BANANA ALMOND MUFFINS
Prep time: 10 min | Cooking time: 20-25 min | Makes: 12 muffins

Ingredients:

3 ripe bananas, mashed
3/4 cups sugar
1/4 cup butter, melted
1 tsp pure vanilla extract
1 tsp baking soda
1 tsp baking powder
1 1/2 cups all-purpose flour
1 cup chopped fresh strawberries
1 cup sliced almonds

Directions:

Preheat oven to 375 degrees.

Mix the mashed bananas with sugar, butter, vanilla extract, baking powder and soda. Add in in flour and mix well to form a smooth batter.

Fold in almonds and chopped strawberries, and fill a greased muffin tray three-fourths full.

Bake for 20-25 minutes, till muffins are done and brown on top.
Tried this recipe? Leave a Comment and let me know, also Rate it by clicking the number of stars on the recipe card. Want to share your version with me? Tag me on Instagram @hookedonheat