For the last few months, I've been keeping a tab on what we've been having for dinner every night. The idea very much caught on from this wonderful blog that has inspired me, and I'm sure many of you as well, to cook and serve wholesome, delicious dinners as often as I can. I've been making weekly menu plans for over the past 10 years, and although I try my best to stick to it, most often than not, life happens! Which is why, I've started to work on a new strategy and so far it has been working out great for us.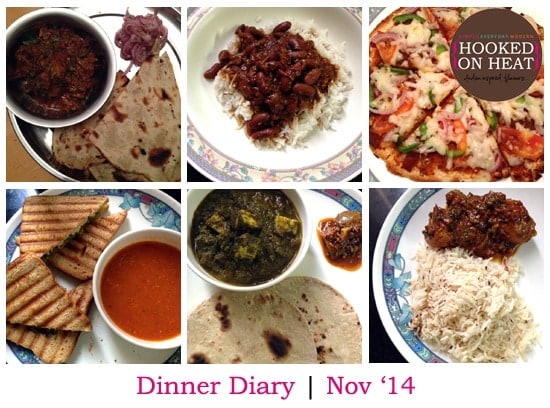 Now, instead of shopping with a fixed meal plan in place, I head to the produce section with an open mind. I look for what's on sale, what's in season, and most importantly what we're in the mood for, and shop accordingly. I always make sure to have a well stocked fridge, freezer and pantry, so coming up with a healthy meal ideas based on the fresh veggies and fruits is no big deal. I buy my meats and fish at the beginning of the month, and ration them out over the next four weeks. Shopping and cooking this way, for me, has helped me come up with more inspired meals and caused less wastage.
I always get asked what I cook and cook on a daily basis, so I thought sharing my dinner diary with you would help those looking for some dinner-time inspiration. If you'd like to pics of the food I cook and feed my family, join me on Instagram and Facebook, where I often post my daily meals.
Here's what we ate in the month of November. I've tried to link as many recipes as I could think of; however, if you see something you'd like a recipe for, please don't hesitate to ask me in the comments.
Nov 1: OUT

Nov 2: Chicken Curry, Rotis, Salad

Nov 3: Paneer & Green Onion Parathas, Sukhe Alu

Nov 4: Tomato Soup, Veggie & Pesto Grilled Cheese

Nov 5: Palak Paneer, Rotis

Nov 6: Bun-Omelette

Nov 7: TAKE-OUT

Nov 8: Wine & Cheese, Bread & Dips {Movie night with Hubby Dear}

Nov 9: Chicken Curry, Jeera Pulao, Salad

Nov 10: Egg Sambal (made with boiled eggs), Rice, Salad

Nov 11: Rajma, Rice, Salad

Nov 12: Paneer Burji, Rotis

Nov 13: Chicken & Rice Soup, loaded with veggies

Nov 14: Homemade Burgers & Fries

Nov 15: OUT

Nov 16: Masala Puris, Chana Masala, Sukhe Alu

Nov 17: Coconut Chicken Curry with Carrots, Potatoes & Green Beans, Rice

Nov 18: Revamped Ramen

Nov 20: Chili, Quesadillas

Nov 21: Omelette Sandwiches

Nov 22: Fajitas, Nachos

Nov 23: TAKE-OUT

Nov 24: Fish Curry, Stir-fried Green Beans, Rice

Nov 25: Minestrone Soup

Nov 26: Egg Curry, Veggie Pulao

Nov 27: Spaghetti, Salad

Nov 28: Pizza

Nov 29: TAKE-OUT

Nov 30: Quick Chicken Biryani, Raita, Salad