After two whole of months of regaling in a house brimming with lively conversation and splits of laughter, amidst the usual occasional rolling of the eyes of course, I finally find myself in an empty one. My parents recently left after enjoying a what I'd like to believe, a blissful vacation with us. With them, my sister – who for the duration of their stay moved in bag and baggage, went too. And if that was not enough, Hubby Dear had to take his business related trip within days of their departure. Which leaves me fending for myself.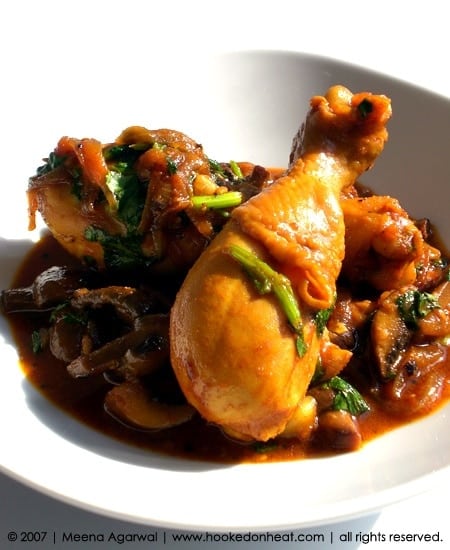 But of course, like most artistic types, I use that time to dwell in my creativity. I can sleep as late as I want to, watching reruns of 'What Not to Wear' (what is it with that show that I can never get enough of?), work on my writing commitments into the wee hours of the morning, and the best part yet, experiment with food and test new recipes. Which is not to say that I look forward to this time, but it's much easier getting rid of a recipe gone horribly bad and turning to a cup of fruit yogurt for dinner rather than trying to convince a famished husband to do the same.
I woke up this morning with a deep longing for some good comfort food. So after a quick breakfast of coffee and toast (yes, I know, how boring!), I decided to head out and see what I could find of fresh produce. As I strolled down the aisles of fresh fruits and greens, ideas kept popping into my head. One look at the abundance of fresh mushrooms reminded me of a sinfully delicious Chicken and Mushroom Stew I had recently. It was warm and comforting, a treat for a lonely week night. The short flashback was all I needed to add it to my basket. Once the mushrooms were in, my hands just moved to pick up the rest of the ingredients. The pot was already simmering in my head, and by the time I got home, I could already taste it.
CHICKEN AND MUSHROOMS
Prep time: 30 min | Cooking time: 30 min | Serves: 2

Ingredients:

4 chicken drumsticks
1 tsp red chilli powder
1/2 tsp turmeric powder
2 tbsp light cooking oil
1 medium-sized onion, thinly sliced
1 tsp minced garlic
12-15 baby portobello mushrooms, quartered
1 tsp cumin powder
1 tsp crushed black pepper
water, as required
salt to taste
fresh coriander leaves, chopped for garnish

Directions:

Marinate chicken with turmeric and chilli powder, and set aside for half an hour.

Heat oil, and saute onions and garlic till fragrant. Add in mushrooms and fry till lose moisture and turn brown.

Add in chicken, cumin powder and crushed black pepper, and mix well to incorporate spices. Let chicken fry for 5-10 minutes, turning once, till it starts to brown. Add about a cup of water, cover, and let simmer till chicken is cooked through. Add more water if it begins to dry up.

Season with salt, garnish with fresh coriander, and serve with warm bread and a light salad.