Over six years ago when I first introduced the Indian Cooking 101 series of this very blog, I had no idea I was about to start a cult following. What started as a simple desire to help a few of my friends and readers learn the basics of Indian cooking, enabling them to enjoy good food cooked in the comforts of home using fresh, readily available, and healthy ingredients, turned out to be one of THE best decisions I ever made in my writing/blogging career. The series was soon picked up by The Mississauga News as a monthly feature in their food section. Over the years, I've received a ton of emails and comments on those posts from folks eager to learn more, much more, about Indian cooking. And it has been a true pleasure for me responding to each and every one of those queries.

I've been reading through a lot of feedback from you guys on the kind of content you'd like me to showcase more of on HoH. Let me just say that I have a couple of fun features/ideas that should take off soon that I'm sure you'll enjoy very much. One of them that makes me giddy with excitement is a spin off from my Indian Cooking 101 series. I know that a lot of you have asked me to bring that back, but I think I can offer you something a step further. Join me, as I cook my way from A to Z of Indian Cooking. Each post in this series will showcase a recipe of a dish that begins with a letter from the alphabet. I'll try my best to pick a variety of vegetarian, non-vegetarian and vegan recipes - both restaurant favourites, and simple home cook secrets.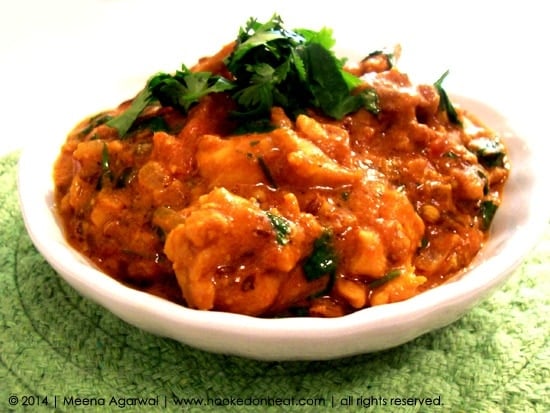 Okay, so I'm back with the next episode in this series and today we're on to the letter B. B for Bhuna Chicken. Bhuna is the technique of cooking, which simply means to fry the flavour base or masala really well till it starts to caramelize and give out oil along the sides. This method of cooking ensures a robust burst of flavour in the dish and the end result is always a warm, comforting bite. It does take a bit of extra time and a watchful eye to make sure that the masala is cooking well without getting burnt. The secret to this, I believe, is low and slow. Keep the heat low and stir slowly every now and then.
This recipe is perfect for a weekend meal when you have the time and mood to putter about in the kitchen with nothing much else to tug at your attention. It also tastes even better the next day since the spices and flavour and enough time to penetrate and mingle through. Because of this, I love to serve this dish at dinner parties when I know I can cook it either the previous night or early that morning. Other than the little bit of extra time it takes to bhuno the masala, this recipe is fairly simple and a treat to eat.
BHUNA CHICKEN
PREP TIME: 15 MIN | COOKING TIME: 30 MIN | SERVES: 2-4 AS MAIN, 6 AS SIDE

Ingredients:

2 tablespoon light cooking oil
1 teaspoon cumin seeds
1 teaspoon coriander seeds
1 teaspoon fennel seeds
1 large onion, finely chopped
1 tablespoon ginger paste
1 tablespoon garlic paste
½ teaspoon red chilli powder
1 teaspoon coriander powder
½ teaspoon turmeric powder
1 teaspoon garam masala
2 tablespoon tomato paste
2 medium tomatoes, finely chopped
1 lb boneless chicken thighs, cut into bite-sized pieces
water, as needed
a hefty pinch of kasoori methi
salt, to taste
handful of finely chopped cilantro leaves for garnish

Directions:

Heat oil in a large deep pan on medium heat and add in the cumin, coriander and fennel seeds. As soon as they start to sizzle, add in onion and fry for 2-3 minutes till lightly browned.

Add ginger, garlic and spices, and fry for a minute or two till fragrant. Stir in the tomato paste and combine well with the onion and spices.

Add in tomatoes, stir well, and continue to fry the masala, stirring occasionally till the tomatoes start to pulp and blend with the spice mixture.

Add in the chicken, season with kasoori methi and salt and cook covered for 7-8 minutes on low heat. If you prefer a bit more of gravy, add some water and bring it to a slow simmer.

Garnish with fresh cilantro leaves and serve hot with fresh made rotis or a side of rice.
MORE POSTS ON INDIAN FOOD: A-Z
A is for… Achari Mushrooms
B is for… Bhuna Chicken
C is for… Chatpati Bharwaan Bhindi
D is for… Dhabewali Dal Tadka
E is for… Egg Curry
POSTS ON INTRO TO INDIAN COOKING