So… in my last post I had asked you all to come clean and tell me what you'd like me to write/change/do on the blog; and I loved reading all the comments and personal emails that I received from you. A lot of you (almost everyone that wrote in, actually) said that you'd like to see more frequent posts from me. And boy did I hear ya! I had just received my new Erin Condren planner a few days prior, and immediately set to work on my blog editorial calendar. I mapped out posts I have stockpiled as drafts, and dedicated days to developing, cooking and testing new recipes. So keep those emails and comments coming in and let me know what kind of recipes you'd like me to dish out.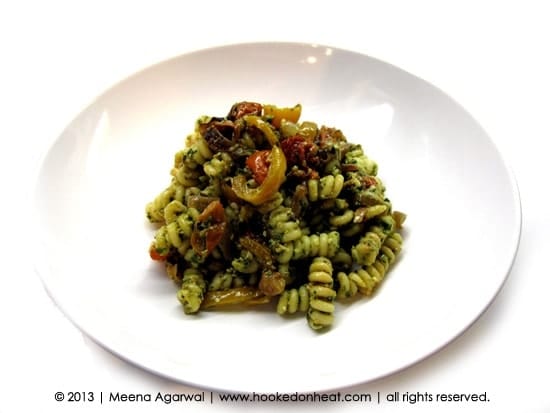 One of the emails I received came from Supriya, who had this to say:
Hi Meena, I've been a long time reader of your blog and have enjoyed a ton of your recipes. Many of them appear on my dinner table on a weekly basis and have become family favourites. Although I'm proud that my kids enjoy and readily eat almost anything I put on their plates, they've recently started to get a bit fussy when it comes to dinner. They've been requesting pasta a lot lately, and while I do indulge them most times, I'm not too happy about serving them a bowl of spaghetti and meatballs each week. I'd like to try something more whole with a ton of veggies. They do enjoy eggplant and spinach lasagna, but frankly I need something that is quick, simple and delicious! Can you help? An over-worked mom, Supriya
Well Supriya, first off, let me congratulate you on having such good eaters as kids. If your kids will readily relish a helping of eggplant and spinach lasagna – that's half the battle won! Personally, I love having pasta on my weekly meal rotation as well. Let's face it – it's fast, easy, and with a little creativity, can be made wholesome as well. I made this recipe sometime ago for a surprise b'day party I threw Hubby Dear. It was one of the sides with the main Eggplant Parmesan dish I made. The crowd loved it, and needless to say, Hubby and Baby Dear as well! It's quite easy to prep and can be enjoyed either warm or cold. I've made with various pasta shapes (macaroni being Baby Dear's favourite, and rotini or penne, ours), and whatever veggies I have on hand. Give it a try, and I'm sure you and your family will keep asking for more!
Pesto Pasta with Roasted Veggies
Prep time: 15 min | Cooking time: 24 min | Serves: 3-4 as main, 6 as side

Ingredients:

3 cups medium-sized pasta
1 pint cherry tomatoes, halved
1 large onion, thinly sliced
1 red bell pepper, seeded and thinly sliced
1 yellow bell pepper, seeded and thinly sliced
1 tsp dried oregano
1 tsp red chilli flakes
1 tbsp olive oil
1 cup pesto
salt & pepper, to taste

Directions:

Bring a large pot of water to boil and cook pasta according to package instructions.

In the meanwhile, spread out cherry tomatoes, onions and peppers on a wide baking sheet and toss with oregano, chilli flakes and olive oil. Roast for 20-25 minutes in a 375 degree pre-heated oven, till the veggies start to brown along the edges.

In a large bowl, add in drained pasta, roasted veggies and pesto, and mix well. Season with salt and pepper and toss again to combine all the flavours.

Serve warm immediately or let it cool to serve as a salad.
Tried this recipe? Leave a Comment and let me know, also Rate it by clicking the number of stars on the recipe card. Want to share your version with me? Tag me on Instagram @hookedonheat