Over six years ago when I first introduced the Indian Cooking 101 series of this very blog, I had no idea I was about to start a cult following. What started as a simple desire to help a few of my friends and readers learn the basics of Indian cooking, enabling them to enjoy good food cooked in the comforts of home using fresh, readily available, and healthy ingredients, turned out to be one of THE best decisions I ever made in my writing/blogging career. The series was soon picked up by The Mississauga News as a monthly feature in their food section. Over the years, I've received a ton of emails and comments on those posts from folks eager to learn more, much more, about Indian cooking. And it has been a true pleasure for me responding to each and every one of those queries.

I've been reading through a lot of feedback from you guys on the kind of content you'd like me to showcase more of on HoH. Let me just say that I have a couple of fun features/ideas that should take off soon that I'm sure you'll enjoy very much. One of them that makes me giddy with excitement is a spin off from my Indian Cooking 101 series. I know that a lot of you have asked me to bring that back, but I think I can offer you something a step further. Join me, as I cook my way from A to Z of Indian Cooking. Each post in this series will showcase a recipe of a dish that begins with a letter from the alphabet. I'll try my best to pick a variety of vegetarian, non-vegetarian and vegan recipes – both restaurant favourites, and simple home cook secrets.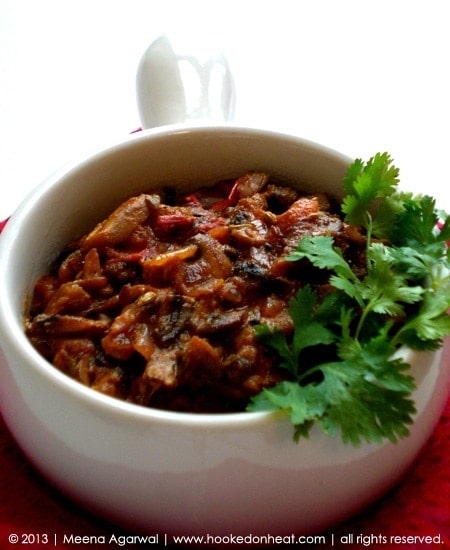 Today we will start with the first letter: A. And with that, the lip-smacking delicacy Achari Mushroom comes to mind. Growing up, I was hardly ever exposed to fresh mushrooms much. In fact, when I think of all the ways we ate it when I was kid, this is what I remember – drained from a can, sliced and generously topped on a homemade pizza with lots of cheese! Funny as it may seem, I loved every bite and always requested my Mom to add more the next time she made pizza again. Imagine my surprise when I tasted a fresh mushroom for the very first time. Needless to say, it was succulent, absolutely delicious and coated in a delightful sauce that with slightly spicy and tangy at the same time. There was no turning back back then. I never went near a can of mushrooms again!
Achari Mushroom is one of those splendid dishes that is perfect to serve when you want to impress. It is simple enough to whip up in a moment's notice (provided you have all the ingredients on hand, of course!), yet the flavours are so profound that those eating will praise you for slaving over the stove. It also works great as a weeknight meal and apart from Panch Phoran (a blend of spices traditionally used in Bengali cooking), uses pretty much all other ingredients that can be found in an Indian pantry. Trust me when I say this, do not hesitate when buying a packet of Panch Phoran. This spice blend can make a simple stir-fry of potatoes taste divine, and is now a staple in my spice box. It's totally worth that extra jar space in the spice cabinet.
Achari Mushroom
Prep time: 15 min | Cooking time: 20 min | Serves: 2-4 as main, 6 as side

Ingredients:

2 tbsp light cooking oil
1 tsp panch phoron*
1 large onion, finely chopped
1 tbsp ginger paste
1 tbsp garlic paste
1/2 tsp red chilli powder
1 tsp coriander powder
1/2 tsp turmeric powder
1/2 tsp amchur powder
2 tbsp tomato paste
2 medium tomatoes, finely chopped
500 gms white button mushrooms, wiped clean and sliced
water, as needed
salt, to taste
handful of finely chopped cilantro leaves for garnish

Directions:

Heat oil in a large wok (kadhai) on medium heat and add in panch phoran spice. As soon as it starts to sizzle, add in onion and fry for 2-3 minutes till lightly browned.

Add ginger, garlic and spices, and fry for a few seconds till fragrant. Stir in the tomato paste and combine well with the onion and spices.

Add in tomatoes, stir well, and let it cook covered for a few minutes till the tomatoes start to pulp and blend with the spice mixture.

Mix in mushrooms, season with salt and cook covered for 5-6 minutes on low heat. If you prefer a bit more of gravy, add some water and bring it to a slow simmer.

Garnish with fresh cilantro leaves and serve hot with fresh made rotis or a side of rice.

*NOTE: Panch Phoran is a spice blend that can be easily made at home by combing equal amount of the following spices: mustard seeds, fenugreek seeds, cumin seeds, nigella seeds and fennel seeds.
MORE POSTS ON INDIAN FOOD: A-Z
POSTS ON INTRO TO INDIAN COOKING